Today we are talking about something that we believe to be a true asset when it comes to living your healthiest and happiest life – accountability.  Even we owe the formation of Fairburn it Off to accountability.  Without the two of us encouraging one another to wake up early, get in a workout, and opt for a healthier meal – we never would have started Fairburn it Off.  And without a couple of close friends encouragement, we would not have put all of our nutrition information and recipes onto paper, and created the Fairburn it Off Nutrition & Fitness Plan.
Accountability can be key in helping you to achieve your goals and create new ones, so here are 4 ways in which you can help to keep yourself accountable:
Put yourself out there
Ask someone you do not know well, or maybe just met, to workout with you once or twice a week. Asking a close friend is also great, but it can be nice to meet someone new to share this with. Plus, when it is someone you are getting to know, you won't want to let them down, and will most likely follow through more so that you can encourage them too.  It can be scary to allow yourself to be vulnerable and put yourself out there, but it can also make the world of a difference – so don't be shy!
Pick 2 days a week where nothing is going on
Start with just 2 days. That's it. Pick any two days during the week where you have a free spot to work out and/or meal prep. Whether it is 30 minutes or 1 hour, stay consistent with your two days every week. Then, you can start to build up from there. Do not worry about going all out at once. Take your time, figure out what schedule works best for you, and then go from there.
Make it a date
Whether it is just you and your special someone, or you and a group of friends, do something together that allows you to hang out, have fun, and be active all at the same time! You do not always have to do dinner and a movie – think day hikes, kayaking, apple picking or corn mazes in the fall, yoga classes, or even camping. Recently, we went to a friend's house for wine and did yoga on her roof!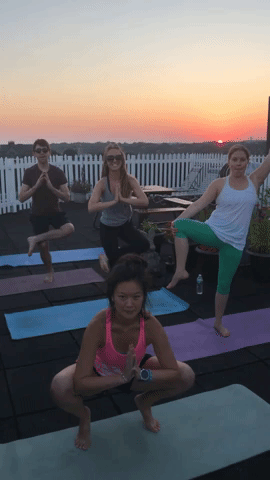 Do it for you
Sometimes simply writing down reminders to yourself or writing out what you want to eat for the week, is just as good of an accountability partner as any. Write down why you are doing this health journey – write down as much detail as possible. In a few months, revisit and write it down again or change your goal(s).
Something else you can do for yourself, is sign yourself up for something new, or put it out there to other people that you are going to do something. For example, I used to tell myself that I could not run and would never be a "runner"; however, one day I ended up signing up for a half marathon. I did it so fast so that I could not back out. Once I paid the fee, I knew I had to train, and that race ended up being the first of many. It does not have to be a road race that you sign up for, but pick something that you can set your sights on to help stay accountable.
Remember, you deserve to be healthy and feel great. Whether you have been active for years or just starting for the very first time, you can accomplish your goals. So go surprise yourself.